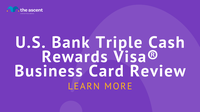 US Bank Triple Cash Rewards Business Review
Main advantages
This card offers a wide range of useful benefits, ranging from unlimited rewards to an introductory APR offer and more.
Up to 5% cash back
For starters, you'll earn 5% cash back on select trips booked through the US Bank Travel Rewards Center. This includes prepaid hotels and car rentals.
Plus, cardholders earn 3% cash back in these business-friendly bonus categories:
Petrol and EV charging stations
Office supply stores
Mobile phone service providers
Restaurants
Other purchases earn 1% cash back. It is important to note that the cashback bonus is unlimited, so there is no cap on how much you can earn for your qualifying purchases. Cash back rewards do not expire as long as your account remains open and in good standing.
You can redeem your cash back rewards directly from your online account as a credit on your credit card statement or as a deposit to an eligible US bank account.
Sign-up bonus
The US Bank Triple Cash Rewards Visa® business card offers a very competitive sign-up bonus. New cardholders can earn a whopping $500 cash back for spending $4,500 on their card within the first 150 days of opening an account.
Not only is the size of the bonus excellent, but so is the time you have to earn it. Instead of the standard 90 days, you'll get 150 days. This makes it much easier for even smaller businesses to meet the spend requirement and score a bonus.
$100 annual software statement credit
No matter what type of business you run, chances are you have at least one or two recurring software subscriptions. The US Bank Triple Cash Rewards Visa® Business Card comes with a $100 annual statement credit for qualifying purchases from qualifying software service providers. This includes popular bookkeeping services like FreshBooks and QuickBooks.
Statement credit will be automatically applied to your account once you have made 11 consecutive qualifying monthly purchases. And as an annual credit, you can earn it year after year. Not bad for a $0 annual fee card!
Intro 0% APR on purchases and balance transfers
While 0% APR intro offers are common for personal credit cards, they're a bit harder to come by in the business card world. But the US Bank Triple Cash Rewards Visa® Business Card comes with one of the best deals we've seen.
You can get 0% introductory APR on new purchases and balance transfers for the first 15 months. Balance transfers must be completed within the first 30 days of account opening to qualify for the introductory APR offer (balance transfer fees will also apply).
No annual fee
One of the most surprising things about the US Bank Triple Cash Rewards Visa® Business Card is that it has no annual fee. With all that going on, the US Bank Triple Cash Rewards Visa® Business Card could get away with an annual fee. The software credit alone would make an annual fee of less than $100 still worth paying. So the fact that it has a $0 annual fee really makes this card stand out as a top option.