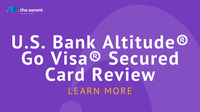 US Bank Altitude® Go Visa® Secure Card Review
Best benefits
This card has a ton of benefits, especially for a secured credit card.
Up to 4x points per dollar on purchases
One of the great advantages of the US Bank Altitude® Go Visa® secure card is its significant purchase rewards. You'll earn 1x per dollar of Base Reward Points for purchases, plus bonus rewards in popular categories:
4x points per dollar on meals (including take out)
2x points per dollar in grocery stores
2x points per dollar at gas stations
2x points per dollar on streaming services
1x points per dollar on all other qualifying purchases
You can redeem points for everything from travel and merchandise to cash back and gift cards. Reward points never expire as long as your account remains current and in good standing.
$ 15 annual streaming credit
Not only does this card earn streaming rewards, it also comes with an annual streaming bonus. You will get a $ 15 credit every 12 months. Eligible streaming services include popular providers like Netflix, Hulu, and Apple Music.
Credit will display within two billing cycles of eligibility. You will need to have 11 consecutive monthly payments on the same streaming service to earn the bonus credit.
No annual fee
The rewards might be the jackpot for this card, but that's not the only thing that sets it apart. Another advantage of the US Bank Altitude® Go Visa® secure card is that there is no annual fee. Like the rewards, this is a rare benefit for a secured credit card. Some secure cards charge an annual fee of up to $ 49 or more. So you won't waste money on annual fees waiting to switch to an unsecured card.
Switch to an unsecured card
Secured credit cards are meant to create credit, but so what? Instead of having a secure card forever or having to close your account, the US Bank Altitude® Go Visa® secure card can evolve into an unsecured credit card. This happens automatically when US Bank believes you are ready. Your deposit will be fully refunded when you upgrade to an unsecured card.
The best way to qualify is to pay your bill on time each month and keep your credit card balance low.
What could be improved
Although it has many advantages, there are some drawbacks to this card that should be noted.
High minimum deposit
As a secured credit card, the US Bank Altitude® Go Visa® secured card requires a deposit to open. Your credit limit will be equal to the size of the deposit. The minimum deposit for the US Bank Altitude® Go Visa® secure card is $ 300. This is higher than for many similar secure cards. Some cards have deposits as low as $ 49. A minimum deposit of $ 200 is typical.
On the other hand, the maximum deposit amount is $ 5,000, which is also quite high for a secure card. This could potentially unlock a credit limit of up to $ 5,000.
No sign-up bonus or introductory APR
The US Bank Altitude® Go Visa® secure card does not offer any type of offer for new cardholders. This means that you will not earn a signup bonus. You also will not receive a 0% introductory APR.
These offers have become fairly standard for unsecured credit cards. They are rare – but not unknown – among secure cards. Considering the solid rewards of purchasing this secure card, the lack of bonuses is not surprising.