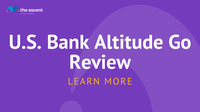 US Bank Altitude Go Card Review 2022
Main advantages
The US Bank Altitude® Go Visa Signature® Card has a nice set of features, which include bonus opportunities and a 0% APR introductory offer.
20,000 bonus points
As a new cardholder, you'll earn this 20,000 point sign-up bonus for spending $1,000 in the first 90 days. Each point is worth $0.01, making this bonus worth $200. It's competitive with the best sign-up bonuses among credit cards that don't charge an annual fee.
SEE MORE GREAT BONUS OFFERS: Best Signup Bonus Credit Cards
Up to 4 points per $1
The US Bank Altitude® Go Visa Signature® card gives you:
4 points per $1 on takeout, food delivery and dining
2 points for $1 at grocery stores, grocery delivery, streaming services and gas stations
1 point per $1 on all other qualifying purchases
This card is designed for consumers who spend a lot to eat, because 4% return in this category is the best. The additional bonus categories are nice extras, but you could get 2% or more in all of those areas from other rewards credit cards.
COMPARE MORE OPTIONS: Best credit cards with rewards
No annual fee
If you stick to credit cards with no annual fee, this one fits the bill. This type of card works well for consumers on a tight budget or who don't spend a lot.
SEE MORE : Best No Annual Fee Credit Cards
0% introductory APR for 12 billing cycles
This card offers an introductory 0% APR on purchases and balance transfers for the first 12 billing cycles. Whether you want to pay off your purchases over time or reduce your credit card debt, this offer will help you save on credit card interest. Note that the 0% introductory APR on balance transfers only applies to balance transfers made within 60 days of account opening.
SEE MORE : Best 0% APR Credit Cards
$15 annual streaming credit
A unique benefit of the U.S. Bank Altitude® Go Visa Signature® Card is a $15 annual streaming credit. To earn this credit, you must make qualifying streaming purchases for 11 consecutive months. There are over a dozen eligible streaming services, including Netflix, Disney+, Spotify, Hulu, and SiriusXM.
No foreign transaction fees
Some credit cards, especially no-annual-fee cards, add a 3% foreign transaction fee for international purchases. This US bank card does not, so it is a good choice to carry when traveling outside the country.
READ MORE: What are foreign transaction fees?