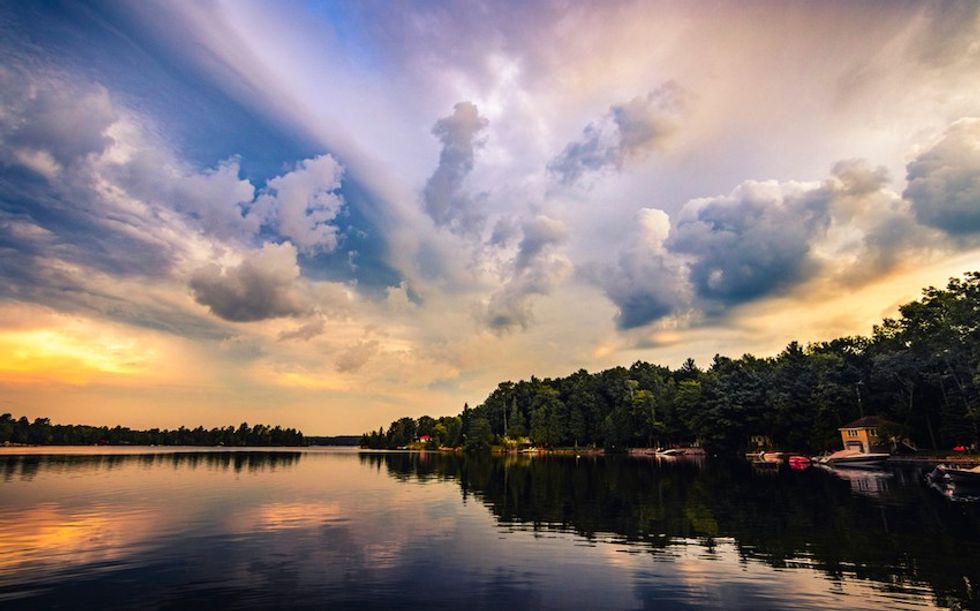 Total dollar value of waterfront sales in Muskoka Skyrockets, up 438% in March
For months now, real estate activity in Muskoka has been breaking records at every level. Unsurprisingly, March was no exception.
Data recently released by the Canadian Real Estate Association (CREA) shows that sales of waterfront properties totaled 210 units in March. That total is up 223.1% from sales for the same period last year and, yes, sets a new sales record for the month overall.
Meanwhile, non-riparian sales activity totaled 383 units last month. This gain, admittedly less striking than that of waterfront sales, is still intense, up 87.7% over the same period in 2020. These sales also set a record for the month.
In response to all the buzzing activity, Chuck Murney, president of the Lakelands Association of Realtors, looks back on the month that welcomed spring.
READ: How Another Ontario-Wide 'Stay-at-Home Order' Affects Your Cottage Plans
"March was another banner month for our region," he said.
"MLS home sales set new records in March for waterfront and non-waterfront properties last month. We also saw a significant increase in the number of new registrations during the period, compared to the totals for the past few months. This new infusion of new listings helped bolster the overall inventory. While this is a welcome respite from recent all-time lows, active listings are still hovering slightly around the lowest level on record. This factor will continue to contribute to the extremely tight market conditions we have experienced over the past year. "
Turning to year-to-date data, waterfront sales totaled a record 397 units in the first three months of 2021 – a number that more than doubles that of 2020; up 154.5%, in fact. Meanwhile, non-waterfront residential sales totaled a record 788 units, up 43.3% from the same period in 2020.
Still from an annual cumulative perspective, the median waterfront price was recorded at $ 850,000, marking a 67.9% increase over the first three months of 2020. For non-waterfront residential properties, the same measure was recorded at $ 583,750 – an increase over the same period, year over year.
Specifically in March, the median price for waterfront property sales was $ 872,000, while the median price for non-waterfront residential sales was $ 606,000; both saw strong year-over-year increases of 64.5% and 44.7% respectively.
"The current waterfront stock for sale is at its lowest level in over 30 years, which has resulted in the convergence of two disturbing trends that are having a negative impact on both agents and buyers," Ross Halloran's rating Sotheby's International Realty. "Agents desperate to get new listings 'buy' listings or 'bid' on price values ​​well above all reasonable market values ​​when valued against recent comparable sales. Once these listings hit the market, they are then 'auctioned off' by multiple buyers – and their agents, in today's multi-bid environment – in a desperate attempt to secure property at all costs (usually well above of market value.) "
According to the MLS Home Price Index – which tracks price trends much more accurately than is possible using average or median price measures – the overall benchmark price for MLS HPI single-family homes was 536,100 $ in March, which is an increase of 42.2 year over year. %.
Looking at the total dollar values, waterfront sales amounted to $ 228.4 million through March. Too bad for "more than doubling" the previous year's total – last month's sales topped March 2020 by 438.3%, setting a new record for the month.
Less breathtaking, but still a feat in itself, the total dollar value recorded for non-waterfront residential sales was $ 247.6 million, up 175.5% from data last March. This not only sets a new record for March, but also represents the highest dollar value of homes sold for a month … in history.
"To try to better satisfy their buyers in these intense multiple-offer situations, many buying agents are now using scalable offer pricing models to predict the end results of the above prices based on the number of competitive offers in play. for a particular property, "says Halloran.
"[Agents are doing this,] and / or including escalation clauses in their bids, increasing their buyer's bid to a predetermined maximum amount to try to keep pace with the increase in auction bids on the listing. "
Halloran adds that if one is trying to identify or attempt to acquire, navigating the world of riparian properties, whether developed or not, is "often a futile exercise and [is] certainly not for the faint of heart.
"Indeed, listing agents and buyers who trade in the leisure market / waterfront must now struggle against real estate Darwinism at its worst and must evolve to survive," he says.
Maryrose Coleman, also agent for Sotheby's, notes that their Halloran & Associates team is starting to see early signs that the market may be changing. While it is still too early to make any predictions, the changes taking place in the GTA, in Canada and even internationally may reflect the transitions ahead for cottage country.
Reflecting on such potential, Coleman says, "It will mean an interesting spring. "
Besides writing about real estate news and the tubs she wishes she could call her own, Kayla enjoys leisurely strolling, baking (and eating) sourdough bread, and reading Mary Oliver by candlelight. She also thinks the Twilight: New Moon soundtrack is "really great."
More from the author