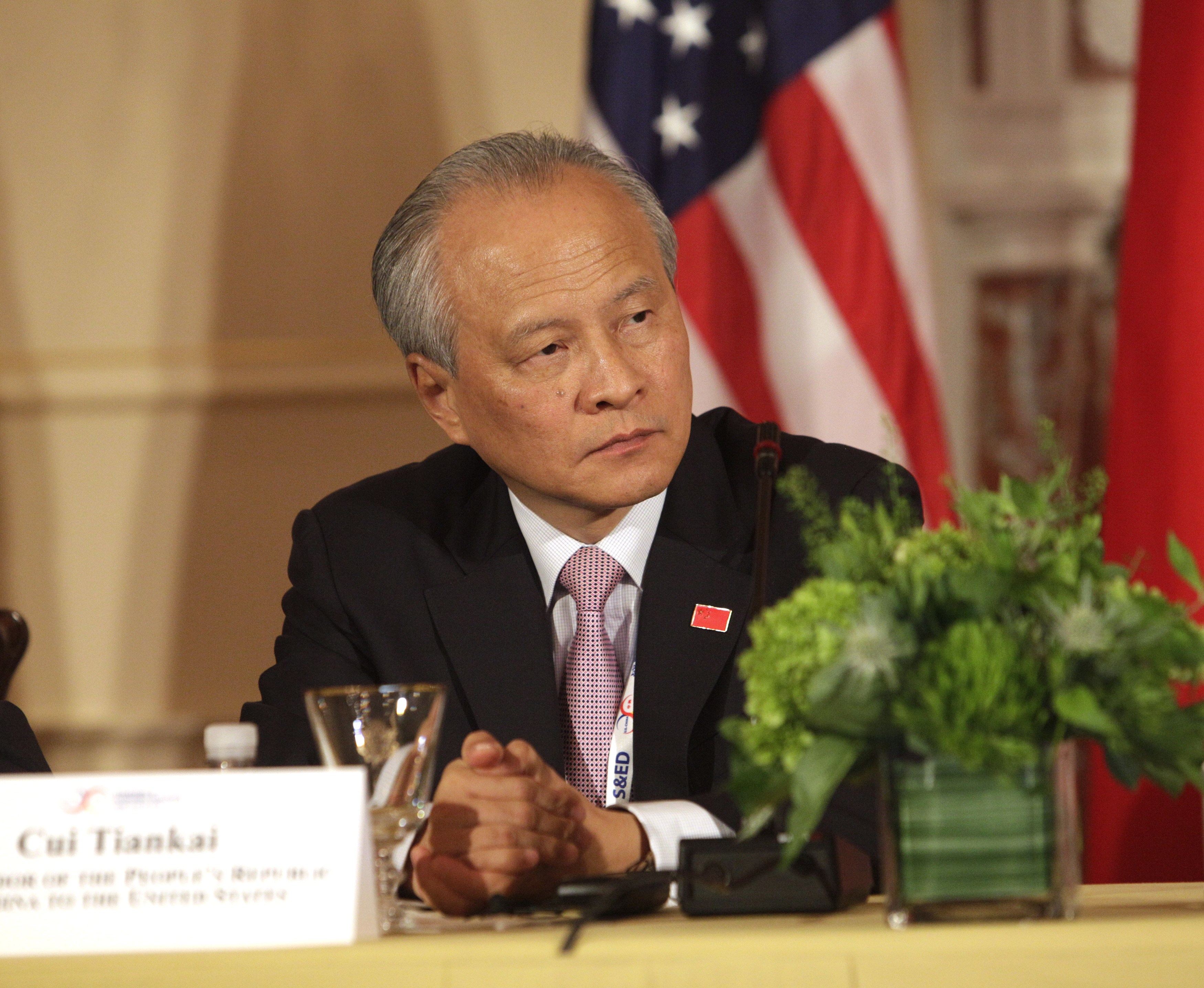 'Racism' at heart of US China policy, says ex-ambassador
The former Chinese ambassador to the United States said Washington's policy towards Beijing was influenced by racism and that Americans would never embrace a superpower from a different culture.
Cui Tiankai, 69, was China's longest-serving envoy to the US capital, serving in the crucial post from April 2013 to June 2021. He previously served as China's ambassador to Japan.
At an annual conference hosted by China's Foreign Ministry on Monday, Cui told attendees in Beijing that any analysis of "changes not seen in a century" must involve consideration of dynamics, including the economy, technology, politics, society and international relations.
"China-US relations are at a historic stage that will last for quite some time yet," Cui said. "The United States will not voluntarily accept the rise of a great power with a very different social system, ideology, cultural traditions and even race."
"I have always believed that there is a strong element of racism in American policy towards China, only some do not admit it, while others do," said the former ambassador. He predicted that the United States would "spare no effort to suppress, contain, divide and encircle China."
"We need to be clear-headed about this and fully prepare for twists and even roller coaster scenarios in China-US relations in the future," Cui said.
Cui's final year in Washington straddled the Republican-Democratic transition between the administrations of Donald Trump and Joe Biden. He also witnessed the hardening of American opinions towards China at the start of the US-China trade war and later the COVID pandemic.
Along with his pessimistic outlook, he appeared to urge caution and cautioned against excesses at a time of heightened military tensions and unpredictable supply chain restructuring.
China must do everything possible "to minimize the cost and the impact on our interests", Cui said. Quoting the late Chinese Communist Party leader Mao Zedong, he continued: "In principle, we should not fight any battle unprepared and any battle that we are not sure of winning; wage no war of anger or war of attrition.
"Every piece of the people's interest is hard-earned. We must not allow it to be plundered by anyone or lost through our own carelessness, negligence and incompetence," Cui said.
Difficulties and challenges
Cui's assessment of relations with Washington is far from unique among China's political establishment. Monday's event – the Symposium on China's International Situation and Foreign Relations in 2021 – also brought together Chinese Foreign Minister Wang Yi, who blamed the "serious difficulties and many challenges" in bilateral relations to the "lack of strategic judgment" of the United States on China. .
Explaining Beijing's position going forward, Wang said, "Dialogue is acceptable, but it should be on an equal footing; cooperation is welcome, but must be mutually beneficial; competition is not a problem, but it must be positive. [China] does not fear confrontation and will fight until the end."
In July, China's most important foreign post, once held by Cui, was filled by Ambassador Qin Gang, who has been actively engaging with American politics and business to recalibrate US relations. -Chinese. It also carries Beijing's clear message on the responsibility of the United States to take the first step in repairing strained relations.
Newsweek contacted the State Department for comment.