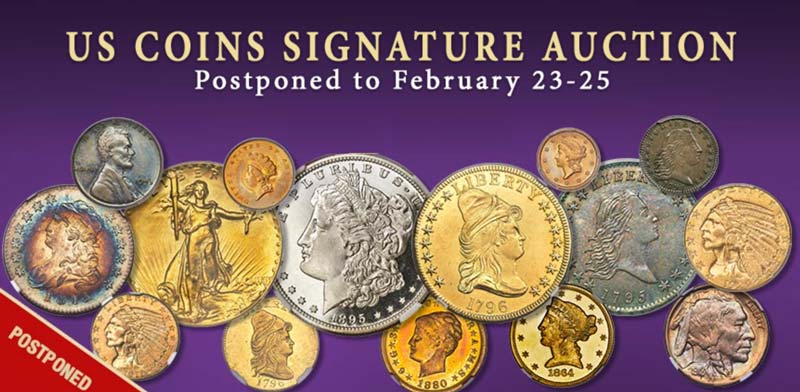 Heritage U.S. coin auction postponed from February 23 to 25
Heritage U.S. coin auction postponed from February 23 to 25
DALLAS, Texas (February 17, 2021) – Due to extreme weather conditions in the Dallas-Fort Worth area this week and across the country, Heritage Auctions' American coin auction, which was scheduled to start tomorrow to Sunday, is postponed for a week from 23 to February 26.
Heritage will be hosting a tour of the lots by appointment at its Dallas office from 9 a.m. to 5 p.m. on Monday and Tuesday February 22 and 23. The revised auction start times and days are as follows:
Session 1 – BOB R. SIMPSON COLLECTION, PART IV

Tuesday 23 February • 6:00 p.m. CT • Lots 3001-3312
Session 2

Wednesday February 24 • 2:00 pm CT • Lots 3313–3641
Session 3 – PRIME MINISTER

Wednesday February 24 • 6:00 p.m. CT • Lots 3642–3834
Session 4

Thursday February 25 • 2:00 pm CT • Lots 7001–7587
For more information, visit the Heritage Auctions U.S. Coin Auction Lot page.
Heritage Auctions is the largest art and collectibles auction house founded in the United States, and the largest collectors' auctioneer in the world. Heritage has offices in New York, Dallas, Beverly Hills, San Francisco, Chicago, Palm Beach, London, Paris, Geneva, Amsterdam and Hong Kong.
Heritage also enjoys the highest online traffic and dollar volume of any auction house in the world (source: SimilarWeb and Hiscox Report). The Internet's most popular auction house website, HA.com, has over 1,250,000 registered bidder members and a free searchable archive of five million past auction records with realized prices , descriptions and enlargable photos. Reproduction rights systematically granted to the media for photo credit.