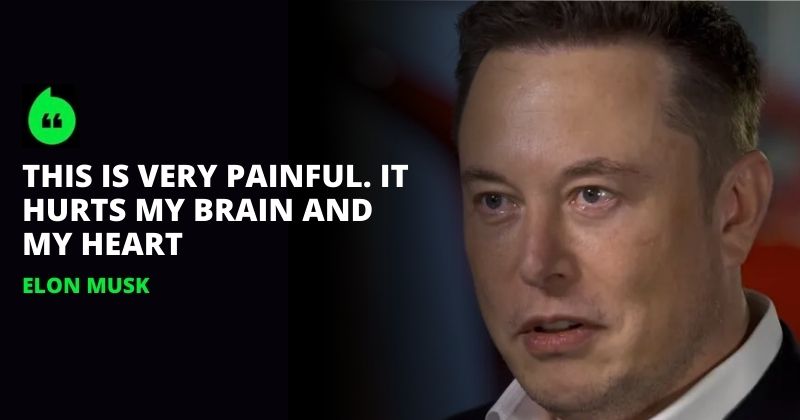 Elon Musk recalls how Tesla almost failed in 2018
Yesterday we saw Tesla finally do the unthinkable – reach a trillion dollar valuation – something only a handful of companies around the world have been able to do.
Read also: Elon Musk's Tesla is worth more than $ 1,000 billion, only sixth company to do so
And as the world celebrated Tesla and its founder Elon Musk for creating the electric car revolution, I came across a tweet that highlighted how close Musk is to losing everything.
The tweet contained the video clip of an interview with Axios on HBO, where Elon Musk revealed how close Musk is to shutting down Tesla's assembly lines and unplugging the electric cars that sparked the revolution.
Tesla crossed 1 T of dollars today.

Wild return: By @Elon Musk, the company was "single-digit weeks" from her death in 2018 during the Model 3's production ramp-up. pic.twitter.com/iIvXpq7zsf

– Trung Phan (@TrungTPhan) 25 October 2021
Musk said the end is almost here when Tesla ramps up production of its Model 3 sedan to meet its goal of making 5,000 Model 3s in one week by June 2018. In the interview, Musk said Model 3 was "the business plan bet." He even went on to say that Tesla was actually "single-digit weeks" from the full shutdown.
Musk said, "Basically the business was bleeding money like crazy. And if we didn't fix these issues in a very short time, we would die. And it was extremely difficult to fix them.
Read also : Tesla Model S Plaid Sets World Record for Fastest Production Electric Vehicle at Nürburgring
When asked how close the business was to his death, Musk said barely "a bunch of weeks."
Musk even revealed the tireless hours he spent in the office, almost seven days a week, sleeping in the factory itself.
He added: "No one should be spending so many hours at work. It's not good. They shouldn't be working that hard. They shouldn't be doing this. It is very painful. It hurts my brain and my heart.
However, Tesla managed to hit the production target for its Model 3 cars and within weeks of hitting the target, Musk announced that he wanted to privatize his electric car company for $ 420 a share, which triggered a ton of drama and controversy, and weeks later, Musk completely canceled the aforementioned plan.
Read also : Elon Musk is crazy: 10 scandalous comments from the CEO of Tesla and SpaceX

Today, it has joined the ranks to become the first automaker to join the trillion dollar club – an exclusive group of which only Apple, Alphabet Inc, Amazon and Microsoft are a part.
Elon Musk has also seen his net worth skyrocket – from $ 36.2 billion to $ 289 billion – giving himself a significant lead on the Bloomberg Billionaires Index ahead of former Amazon CEO and founder Jeff Bezos.
Keep reading Indiatimes.com for the latest science and technology news.